Welcome to Southampton
Arriving in Southampton this week, beginning Monday 27th October, on Braemar, Oriana, Queen Victoria, Independence of the Seas, Saga Sapphire, Azura, Saga Pearl II, Celebrity Eclipse, Adventure of the Seas and Quantam of the Seas.

For updates on sailing times and terminals, or for more information on your ship, check out our Live Cruise Schedule.

Did you know...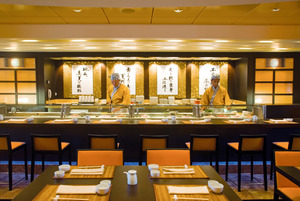 The world's largest cruise ship, Oasis of the Seas, is 1,187 feet long, home to an outdoor park with over 12,000 plants, and plays host to a whopping 5,400 passengers and 2,394 crew.
Sushi restaurants aren't just all the rage on the highstreet. Around 30 cruise ships currently offer sushi bars and Japanese-inspired restaurants.

Many lines within cruise industry put family first. Over 180 ships provide dedicated facilities for kids and teens year-round, while around a dozen can provide them on select sailings.

3 really is a magic number; 3 ships sail with less than 50 passengers, while 3 others sail with over 5,000 passengers year-round.

What kind of cruiser are you?
With the wide variety and choice of cruise holidays available, it can be a tough decision to pinpoint the cruise to suit you. CLIA UK & Ireland is here to make this easier with the help of our new quiz. New-to-cruise and cruise pros alike, you are a few questions away from your match…http://cliauk.frontpageltd.co.uk/

Special Offer - 3 issues for £3 from Cruise International Magazine
As the UK's only independent guide to cruise travel, Cruise International magazine is the must-have cruising handbook for enthusiasts or cruise novices alike. Each issue is full of destination and ship information, guidance and helpful advice on choosing your ideal cruise holiday. All that brought to you amidst fascinating features and beautiful photography, finding the perfect cruise holiday is easy when you read Cruise International magazine.
To guarantee that you are effortlessly updated on a regular basis, you can subscribe now and receive 3 issues for just £3. Click here for more information.
Eavesway Travel

For more information on Eavesway Travel, click here.
Need help booking your cruise
Cruise Southampton has teamed up with Planet Cruise to help you get great deals for your perfect cruise.
Everything you need to know about Southampton
Whether you are catching a cruise, visiting as a port of call or are just looking to find out a little more about the city, we have everything you need to know.
For ideas on what to do in the city...click here for more information.

Invest in Our Software Partners, Widgety
A guide to the ABP Southampton cruise terminals

Follow in the footsteps of Titanic passengers and crew from 1912

Great places to shop in the city

Several great ways to spend a day in the city

A great selection of restaurants in the city