Marco Polo
Teak decks and distinctive dark blue hull, Marco Polo is one of Cruise & Maritime Voyages' fleet of three ships. Spreading across 8 passenger decks, she can accommodate up to 800 guests. Launched in 1966, re-built in 1993 and re-fitted in 2009, she operates cruises exclusively from the UK. Numerous types of cabins are available, from Standards to Deluxe Suites. Marco Polo is an adults-only destination ship, though she will accept teenagers from 16 years old and over when accompanied by an adult.
Ship Facts
Cruise Operator Cruise and Maritime Voyages
Cabins 425
Passenger Capacity (standard) 700
Passenger Capacity (maximum) 800
Crew 356
Launched April 1964
Maiden Voyage 1965
Re-fitted 1993
IMO 641097
Tonnage 22,080gt
Length 176m
Beam (width) 24.6m
Speed 16.5kts
Decks 8 passenger
Gratuities (per person, per night) £4 - £5
Onboard Language English
Currency UK Pound Sterling (£)
Size of Ship Mid-Size destination ship

Cabins
Three main types of cabins are available – Standard, Superior, Premium and Suite.
All rooms include – en-suite bathroom with shower & WC, wardrobes and drawer space, mirrored dressing table, TV, hair dryer, direct-dial telephone, music console and personal safe.
Standard – available in Inside and Ocean View, Twin or Single. Includes all the standard amenities. Ocean views cabins benefit from two portholes.
Superior – available in Twin size Inner or Ocean View (through windows). Includes two lower beds, as well as all the standard amenities.
Premium – Available in Twin size room with an Ocean View (through windows). Includes all the standard amenities. Two of the cabins can accommodate a third passenger.
All suites include – An Ocean View (through windows). Available as Deluxe Suite and Junior Suite. Includes all the standards cabin benefits, as well as a complimentary laundry service and hire from the ship's DVD library, a bookshelf of novels for holiday reading, pre-dinner hors d'oeuvres delivered each evening, confirmed dining, restaurant seating requests and shore excursion reservations.
In addition to all the standard and suite cabin benefits,
The Junior Suite – includes twin beds, which can convert to Queen Size, priority embarkation, a welcome bottle of Champagne (instead of wine) and mineral water on arrival, fresh flowers on arrival, priority boarding at tender ports, UK Daily or Sunday Newspaper delivered on disembarkation day (when available) and special 'At your Leisure' disembarkation service

In addition to all the standards and suite cabin benefits,
Deluxe Suite - includes a King Size bed, a separate living room with other amenities, such as: welcome bottle of wine and mineral water on arrival, fresh fruit bowl (replenished throughout the cruise), mini bar facilities, 17/19" flat screen TV, complimentary cabin breakfast service enhanced bathroom amenity pack, complimentary towelling bathrobes & slippers, use of a cmv golfing umbrella for taking ashore.

Dining
The ship offers a range of dining options. With menus ranging from traditional dishes to international specialities, formal to casual, Marco Polo has a lot to offer.
Main Dining - The Waldorf Restaurant offers a traditional two sitting fixed dining option for dinner in the evening. Enjoy your meal in a luxurious environment with an ocean view. It is the place to enjoy a delicious meal, created by a competent chef and professional waiters. Breakfasts and lunches are also generally served in the restaurant on an open seating basis.
Alternative Dining
Marco's Bistro offers a more informal and stylish option, with buffet style breakfast, lunches and dinner. Enjoy your meal in a light and airy environment
Pool Deck – enjoy 'al fresco' meals, or Marco's Bistro meals as well, with a view of the ocean
Health & Beauty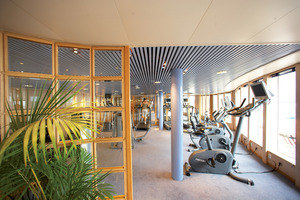 A range of services as well as health and beauty treatment can be found in the Jade Wellness Centre, services include
Hairdressing
Beauty treatments
Body treatments
Spa packages
Skin treatments (mud wraps, exfoliating body polish)
Manicure
Pedicure
Fitness and exercise equipment
Complimentary sauna
Massages
Spa treatments include
Indonesian facials
Coconut body polish
Aromatherapy massages
Take a Look at the Jade Wellness Centre's Treatments
Fitness & Sport
The Marco Polo offers a range of fitness and exercise equipment, including
Treadmills
Stationary bikes
Muscle-toning equipment
An outdoor swimming pool and 3 whirlpools are also available.
Joggers and walkers can circle around the ship while enjoying the ocean view.
Entertainment
Marco Polo offers a wide range of traditional entertainment, including
Nansen Lounge – card room
Marco Polo Lounge – enjoy a display of talents in a snappily choreographed revue or colourful floorshow in a theatre style show-lounge
Livingston Library
Shopping Arcade
Photo Gallery
Internet Café
On cruises of more than 5 nights, 'A Laugh on the Ocean Waves' gives the passengers the opportunity to enjoy comedy acts by guest comedians.
The CMV Club Class helps the passengers get in touch with other guests with similar interest(s), such as bridge, backgammon or chess.
For relaxation, why not try one of the bars and lounges available on-board
Captain's Club – the place to meet other guests and enjoy pre-dinner cocktails while listening to the resident pianist
Columbus Lounge –
Scott's Bar – enjoy an evening entertainment or a late night cabaret. The bar has direct access to the outside and a view of the pool deck below.
Palm Garden – with panoramic ocean views
Education
'An Audience With…' cruises offer guest speaker or performer talks about their life experience and expert knowledge. They will also answer any question the audience might have. Examples of such talks include: Astronomy & Northern Lights, The British Royal Family & Heritage, and Criminology & Serial Killers.
'Super Craft' cruises will offer a variety of different crafting options. Examples of such sessions include Antique Valuation; Amazon, Journalism & Maritime History; Russian Tsars & House Faberge.
Arts & Crafts sessions will also be offered on all cruises of 5 nights or more. Skills demonstrated may include: millinery, bead jewellery, mosaic decoration, calligraphy and decorative card art. (Materials might need to be bought before departure).
For Children
To offer a more traditional and intimate cruise and maritime experience, Marco Polo operates as a 'child free' ship.
Useful Information
Medical centre on-board
Wheelchair accessible

A guide to the ABP Southampton cruise terminals

Follow in the footsteps of Titanic passengers and crew from 1912

Great places to shop in the city

Several great ways to spend a day in the city

A great selection of restaurants in the city
Southampton is celebrating this morning as it has been chosen as one of the host city's for the Olympic Torch Relay.

White Stuff, an alternative fashion store, open their doors in Southampton's premier shopping centre

2013 sees the 175th anniversary of Southampton port. ABP Southampton (Associated British Ports) is set to host a concert at the Queen Elizabeth II Cruise Terminal on Saturday 12th October.